The six letters of Def Jam, like the three of RAL (for Rush Associated Labels), Russell Simmons and Rick Rubin imprinted them indelibly into hip hop mythology. The epicenter is New York, but the label has always known how to move away from there to prospect as far as San Diego, DC, Los Angeles, or Detroit, in order to make sure to have in it's ranks the best representatives of Boom Bap, Hardcore Funk, Go-Go or Electro. Beastie Boys, EPMD, Onyx, Redman, Method Man, LL Cool J, Junkyard Band, South Central Cartel, 3rd Bass; the list of MC's who left a mark stamped with the Def Jam or RAL logo is a freestyle where catching your breath is difficult. In order to study more closely the footprints left by these behemoths, Uncle O, the man behind the 5 volumes of Shaolin Soul compilations, explored the label's 1985-1995 period. The Producers Rick Rubin, Marley Marl, Rockwilder, Jazzy Jay or Prince Paul programmed them on TR-808s, Oberheim DMX or LinnDrum with a brutal groove. Hit on MPC pads with flexibility, or precisely picked in a funky break. From another age, tucked away behind a photograph of Glen E. Friedman, the man who created the visual history of Def Jam and RAL through iconic covers, they are the work of rap's T-Rex. Dinosaur Beats
The six letters of Def Jam, like the three of RAL (for Rush Associated Labels), Russell Simmons and Rick Rubin imprinted them indelibly into hip hop mythology. The epicenter is New York, but the label has always known how to move away from there to prospect as far as San Diego, DC, Los Angeles, or Detroit, in order to make sure to have in it's ranks the best representatives of Boom Bap, Hardcore Funk, Go-Go or Electro. Beastie Boys, EPMD, Onyx, Redman, Method Man, LL Cool J, Junkyard Band, South Central Cartel, 3rd Bass; the list of MC's who left a mark stamped with the Def Jam or RAL logo is a freestyle where catching your breath is difficult. In order to study more closely the footprints left by these behemoths, Uncle O, the man behind the 5 volumes of Shaolin Soul compilations, explored the label's 1985-1995 period. The Producers Rick Rubin, Marley Marl, Rockwilder, Jazzy Jay or Prince Paul programmed them on TR-808s, Oberheim DMX or LinnDrum with a brutal groove. Hit on MPC pads with flexibility, or precisely picked in a funky break. From another age, tucked away behind a photograph of Glen E. Friedman, the man who created the visual history of Def Jam and RAL through iconic covers, they are the work of rap's T-Rex. Dinosaur Beats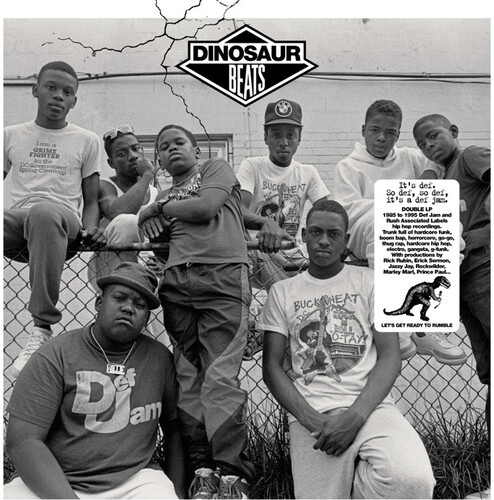 Details

Format: CD
Label: BLUE WRASSE
Rel. Date: 07/07/2023
UPC:

600753975190
Formats and Editions
1. Beastie Boys "Posse in Effect"
2. Method Man "Sub Crazy"
3. Jayo Felony "Penitentiary Bound"
4. South Central Cartel "Servin' 'Em Heat (Album Version)"
5. 3rd Bass "Green Eggs and Swine"
6. Flatlinerz "Rivaz of Red"
7. Redman "Hardcore"
8. Empd "It's Going Down"
9. Boss "2 to Da Head (Album Version)"
10. Onyx "Bichasniguz (LP Version)"
11. LL Cool J "Eat Em Up L Chill"
12. Junkyard Band "Sardines (12' Version)
13. Nikki D "Monday We'll Be Together"
14. Davy D. "Have You Seen Davy ?"
15. Jazzy Jay « (This) Def Jam »
16. Nice ; Smooth "Let's All Get Down"
17. The Afros "Afros in the House"
18. Prime Minister Pete Nice ; Daddy Rich "Dust to Dust"
19. Slick Rick "King"
More Info:
The six letters of Def Jam, like the three of RAL (for Rush Associated Labels), Russell Simmons and Rick Rubin imprinted them indelibly into hip hop mythology. The epicenter is New York, but the label has always known how to move away from there to prospect as far as San Diego, DC, Los Angeles, or Detroit, in order to make sure to have in it's ranks the best representatives of Boom Bap, Hardcore Funk, Go-Go or Electro. Beastie Boys, EPMD, Onyx, Redman, Method Man, LL Cool J, Junkyard Band, South Central Cartel, 3rd Bass; the list of MC's who left a mark stamped with the Def Jam or RAL logo is a freestyle where catching your breath is difficult. In order to study more closely the footprints left by these behemoths, Uncle O, the man behind the 5 volumes of Shaolin Soul compilations, explored the label's 1985-1995 period. The Producers Rick Rubin, Marley Marl, Rockwilder, Jazzy Jay or Prince Paul programmed them on TR-808s, Oberheim DMX or LinnDrum with a brutal groove. Hit on MPC pads with flexibility, or precisely picked in a funky break. From another age, tucked away behind a photograph of Glen E. Friedman, the man who created the visual history of Def Jam and RAL through iconic covers, they are the work of rap's T-Rex. Dinosaur Beats
back to top